Harp
5 records found
Duo Cell'Arpa (Cello and Harp) The Nightingale by Deborah Henson-Conant (CC) by Duo Cell'Arpa
produced by CellArpa

(YouTube™ video)

Genre: Classical/Contemporary
Instruments: Cello and Harp
Updated: Jan 9, 2021
more info...
Light Dreams - The way to the heart (live full set) by Light Dreams
produced by Light Dreams

(YouTube™ video)

Genre: Electronic
Instruments: Synths, guitar, violin, fx, jews harp, key
Updated: Apr 23, 2020
more info...
Beethoven - Pathetique Sonata - Movement 2 (for Winds and Harp) by Tetrasound Productions
produced by Jared Reed

(YouTube™ video)

Genre: Classical
Instruments: Flute, Bassoon, French Horn, Harp
Updated: Feb 6, 2020
more info...
Andrea Anya Ratliff in a talk show by Andrea Ratliff
produced by Andrea Ratliff

Genre: Soundtrack/Film Music
Instruments: harp
Updated: Feb 10, 2012
more info...
Speak softly love (The Godfahter) by Nino Rota
produced by Raquel Lebrón

Genre: Pop
Instruments: Paraguayan Harp
Updated: Jan 17, 2019
more info...
---

Featured Service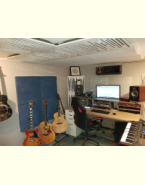 Sel Sync Sound
Mix & Mastering Service
"MIX AND MASTER YOUR SONG FOR FOR $100-in 2days"
Featured websites
High quality classical sheet music to download instantly.
Features
---
Enjoy the Forums
Testimonials
"I am a music composer and conductor and thanks to Musicians Page I got several contacts and new opportunities for my musical career,conducting several orchestras with my music and arrangements."
Composer
Security Seals